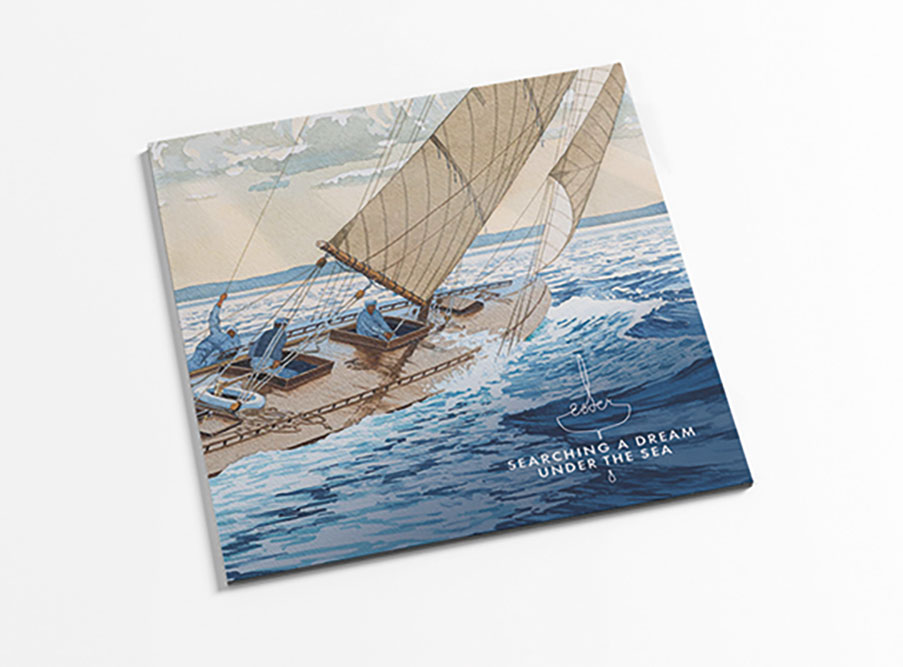 Ester – En försvunnen dröm dold under ytan.
Historien om Sveriges i särklass mest överlägsna tävlingsbåt vid förra seklet är mer aktuell än någonsin. Den vackra Ester som sjösattes 1901 var byggd av en enda anledning, att få försvara Sveriges heder vid den prestigefulla kappseglingen Tivolipokalen mot de finska utmanarna.
Efter många framgångsrika år och i olika ägande försvann spåren efter Ester 1915. Hon dök upp först 1933, nu omdöpt till Brita och skänkt till Örnsköldsviks SS. Hon gick sedan ett dystert öde till mötes. En mörk höstnatt vid segling från Trysunda uppstod brand ombord och hon gick till botten utanför Järvön i Örnsköldsviks skärgård.
I mer än 75 år har Ester legat ensam, djupt nere på botten. Ända fram till 2012 då båten hittades, efter mycket sökande, på 52 meters djup. En dröm om att lyckas lyfta henne till ytan för renovering och ge liv åt denna ikoniska fullblodsracer föddes.
Boken om Ester beräknas vara klar i juni månad och trycks i en begränsad upplaga.
Rikt illustrerad med bilder från hela historien, en lång spännande resa fram till bärgning och till slut, en färdig båt!
Passa på att beställa boken redan nu!
Ester – Searching a dream under the sea.
Ester was Sweden's most dominating racing yacht of her time; her story is now more relevant than ever.
The beautiful Ester, launched in 1901, was built for one reason only; to defend Sweden as reigning champion against Finnish challengers at the prestigious Tivoli Cup. After many years of podium places under various owners, Ester disappeared from the public eye, only to reappear in 1933 having been donated to Örnsköldsvik's SS and renamed Brita.
She was soon to meet  a grim fate. Late one autumn night while sailing back from the isle of Trysunda, a fire broke out on board and she sank outside Järvön in the Örnsköldsvik archipelago. For over 75 years, Ester lay alone at the bottom of the sea in an unmarked grave. After years of searching, in 2012, Ester was finally found at a depth of 52 meters. Restoring this iconic thoroughbred to life is the dream behind the rebirth of Ester.
The book about Esther is expected to be completed in June and it is printed in a limited edition. Richly illustrated with pictures from the history, a long exciting journey to salvage and finally, a finished boat!
Take the opportunity to order the book now!
Nu 392 kr inkl. moms.
Böckerna levereras när boken är klar / Delivered when the book is finished.
Bindning/Binding: Mjukband limbunden / Soft cover glue-bound
Format: 270 x 270 mm
Sidor/Pages: 88
Språk/Language: Svenska/Swedish / Engelska/English